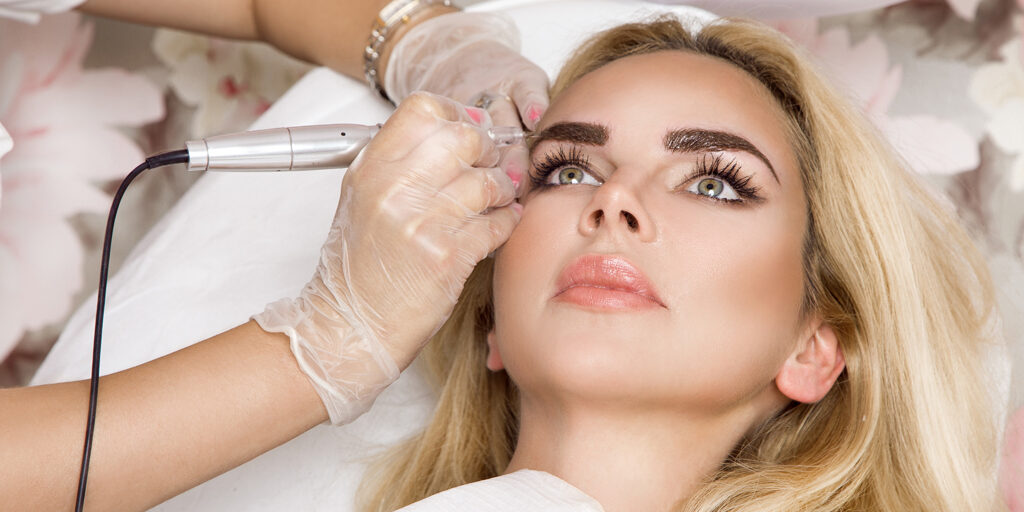 How do you become a certified cosmetic tattooer?
The cosmetic tattoo industry is worth hundreds of millions of dollars worldwide so it is no surprise that so many people are starting a career in permanent makeup. With the industry constantly growing and evolving, cosmetic tattooing has quickly become one of the most lucrative sectors of the beauty industry.
Many PMU artists choose to work for themselves or build up their own successful business and this career path offers amazing opportunities. With experience and an established reputation, the earning potential in cosmetic tattooing can skyrocket.
However, knowing where to begin can be daunting as there are qualifications to obtain and specific requirements that need to be met before you can begin carrying out treatments.
Below we have broken down the steps you need to take to embark on your cosmetic tattooing journey safely and successfully.
1. Training
2. Getting insurance
3. Obtaining a license
4. Practicing on models
5. Choosing prices
6. Marketing your services
7. Selecting equipment and products
8. Self-employed vs. employed
Training
There are several accredited, reputable training academies across the UK to choose from.
Before selecting one, you may wish to read testimonials from previous students and check that the trainers are fully qualified and accredited. It may also be worth checking that the qualification(s) obtained at the end of the course are sufficient to begin working.
Local councils can advise what qualifications are required to begin working in your area. The British Association of Beauty Therapy and the Vocational Training Charitable Trust can also help if you have any queries about a training course, but the trainer should be able to answer any of your questions.
Training courses can be expensive, but finance options may be available. Some courses may include a full starter kit to save students time and energy in selecting trusted equipment. A certification from a reputable training course will also be attractive to potential clients as it will assure them that you have undergone high quality training, and that they are in capable hands.
Doing extensive research is important to ensure that you choose the right training course for you. Most courses simply require you to be at least 18 years old and to complete an online blood borne pathogens exam before you begin.
Getting Insurance
Being fully insured is paramount before you begin working so that you are covered in the event of an accident or legal claim. This is a requirement regardless of whether you are mobile, have a treatment room or work in any other setting. It is especially important if you are self-employed.
Reputable insurance companies can provide quotes that are tailored to your personal requirements. Having a policy that includes liability cover, contents cover, legal expenses and more will allow you to work without worry or added stress.
Again, The British Association of Beauty Therapy can help if you have any uncertainties about your insurance policy and what is required, or you could ask your trainer during your course.
Obtaining a License
Obtaining a license to carry out treatments is usually the next step after completing your training and getting insured. Your local council requires you to work safely and in compliance with current regulations and their criteria will need to be met before they can issue you with a license.
To do this, they may wish to come and inspect the treatment area to ensure that it meets hygiene standards. They may also require a copy of your clinical waste/disposal contract and a list of equipment that you use during treatments to check that it is in accordance with UK regulations.
Information they may also request includes training certificates and documentation, a copy of your insurance policy, fire safety certificate and an electrical test (PAT) certificate. However, requirements may differ according to which borough you live in and the criteria for your local council. Some boroughs may only issue a license to artists with a government approved qualification (such as VTCT Level 4) so it is worth researching this prior to beginning your training.
Practicing on models
You will most likely complete model treatments as part of your training, but once you are qualified, continuing to practice on models will help you perfect your skills and build your confidence.
The first model treatment you carry out alone after training can be daunting, so practice skins are great tools to get comfortable using your machine beforehand. We sell a range of practice skins at Killer Beauty for all different treatments, including brows, lips, scalps and many more.
It is important to remember that your trainer has taught you everything you need to carry out safe treatments and your confidence will build over time.
Family and friends can be a good place to start and can be the perfect opportunity to fully utilise the skills learned during training. Models are also a great opportunity to begin taking professional photographs so you can build up your portfolio for marketing your services.
Choosing Prices
How much you charge for treatments can depend on a variety of factors: the type of treatments you offer, your location, your experience, and your reputation.
When starting out, many artists will offer free or heavily discounted treatment for initial models to build up their portfolio and practice their skills. Once you are ready to begin charging full price, it is worth researching what other beginners are charging or even speaking to your trainer about a reasonable starting price.
As you become more experienced over time and build up a clientele, you can look at increasing your prices. Earning potential in this industry is huge and some of the more successful artists go on to earn a 6-figure salary!
Marketing Your Services
Marketing and advertising your services will help build up your business and gain new clients.
This is such an important part of cosmetic tattooing that we have dedicated a whole blogpost to promoting your business, which you can find here. Head on over to this post to see our step by step guide!
Selecting Equipment and Products
Investing in high-quality products from trusted brands is an absolute must when starting out in cosmetic tattooing. As the saying goes, you are only as good as the tools you use!
During training, you would usually be taught using specific brands or provided with a starter kit, which includes everything you need.
At Killer Beauty, we are proud to stock a huge range of high-quality products from global brands such as Permablend, Microbeau, Li Pigments, Tina Davies Professional and many more. We also work alongside training academies to help provide starter kits for students containing only the highest-quality products to kick start their career in cosmetic tattooing.
It is paramount that the products you use meet national regulations and have been fully safety tested. Shopping at Killer Beauty ensures that your tools meet all these requirements as we only stock reputable, trusted brands.
If you are unsure of what you need in your kit or did not receive one as part of your training, we have a whole blogpost on it coming very soon.
Self Employed vs. Employed
One of the biggest choices when qualifying in cosmetic tattooing is whether you want to work for yourself or work for somebody else. There are pros and cons to both routes, so we have broken it down for you below.
Working for someone else means you do not have to build up a client base or reputation completely from scratch as the clinic or workplace will already have existing, regular clients. It can offer you a more regular income and your insurance and license may even be covered by the workplace (but always check this first).
It is also a good choice for artists who are wanting to work alongside others and are looking for a fixed routine, but it does have less flexibility than being self-employed.
Most individuals in the beauty industry opt to be self-employed as it allows you the freedom to be your own boss and work hours that fit into your lifestyle. However, if you choose to be self employed and mobile, you need to consider how portable your equipment is. Also, being self-employed means using marketing and promotion to build up your client base from scratch and spread the word about your services – something we have covered in detail here.
Being self-employed also means filing your own accounts. You can do this yourself or hire an accountant, which can be costly.
There you have it! A step by step guide of how you can become a certified cosmetic tattooer.
Launching a career in permanent makeup can be daunting and it does require some financial investment, but the opportunities in this industry are life changing.
Below is a summary of our top tips for beginners:
Thoroughly research your training course.
Invest in yourself.
Be professional.
Practice, practice, practice!
Trust that confidence will grow with time.