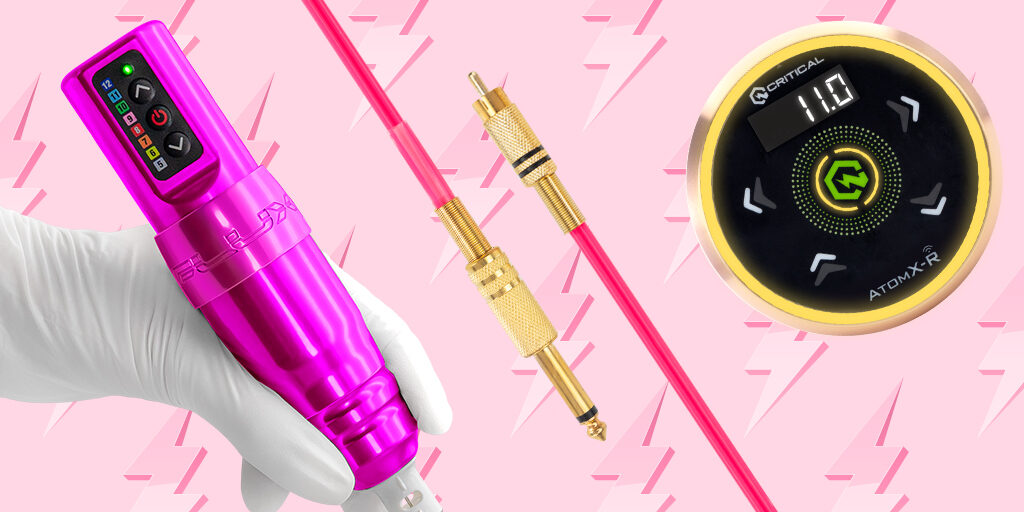 What do I need to power my permanent makeup machine?
Whether you're a complete beginner, or you're simply looking to purchase a different permanent makeup machine, understanding what you need to power your machine can be confusing – especially when there are so many different options to choose from!
In this blog, we are going to break it down into easy-to-understand sections explaining what you need to power your PMU machine and what options are available. That way, you can ensure you are buying the right products as you embark on your PMU journey.
We also have some added info about wireless power supplies for any permanent makeup artists considering going wireless with their next purchase!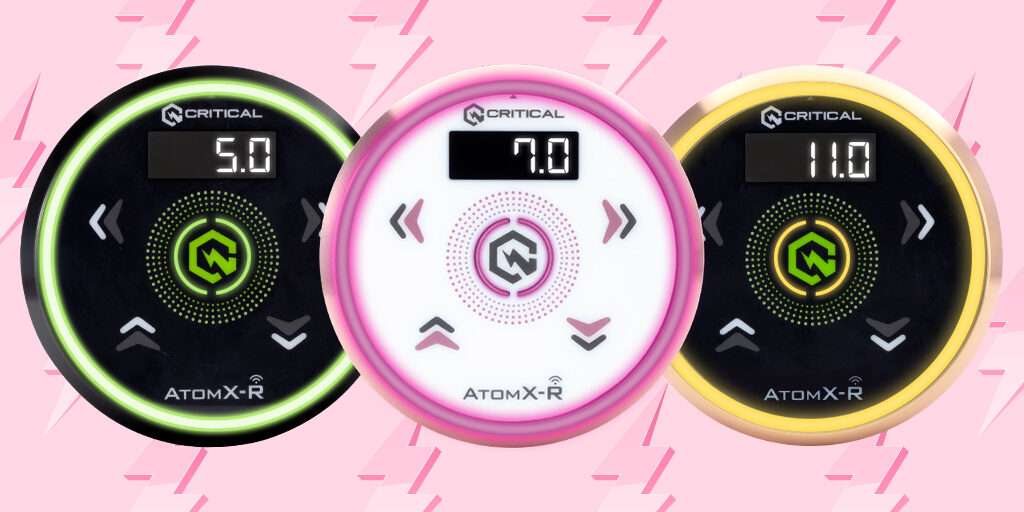 Permanent Makeup (PMU) machine
If you opt for a machine method training course, the PMU machine is the handpiece you will need to carry out the micropigmentation treatment.
There are multiple different options available, but all machines do require a power supply to run them – this is usually purchased separately. The power supply provides electricity to the machine, as the models we stock do not contain a built-in battery. Some wireless machines do have a battery pack included which connects to the machine – but we will go into this in more detail later!
What power supply do I need?
The power supply you opt for usually comes down to preference or your trainer may recommend a specific brand and model to accompany the technique they are teaching.
A clear voltage indicator: you want your power supply to clearly display the voltage it is running at, so you can make accurate adjustments where required.
User-friendly controls: a power supply that is easy-to-use is always a bonus as complex controls can be confusing or time-consuming to operate during treatments.
Compatible with your machine: always check that the power supply you are purchasing is compatible with your machine or the machine you are buying. Most of the power supplies we stock at Killer Beauty are compatible with all rotary machines, but some (like the Goldeneye Multitalent or artyst™ Power Unit) only work with their own brand of hand pieces. If you're unsure – just ask us!
For a power supply that is compatible with most PMU machines, what you need to look for is an RCA connection which will be listed under the key features on the product page. For non-RCA connecting machines such as the Bellar or those by Cheyenne, adaptors are available - we cover this later.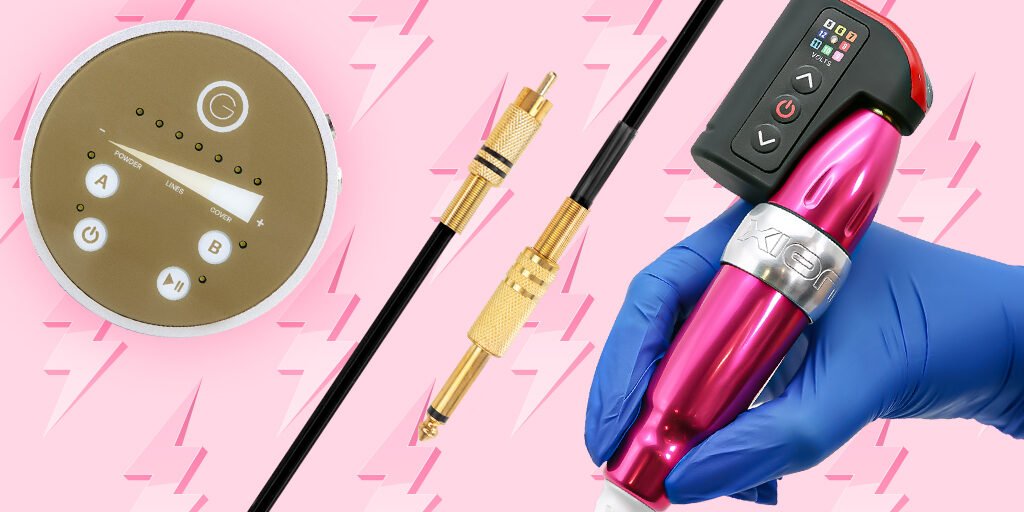 Cords vs. Wireless?
Traditionally, power supplies are connected to permanent makeup machines with a cord or wire, but recent advances in technology means that artists now have the option of wireless power supplies if they prefer.
For traditional-style power supplies, you will need a cord to connect your machine to the power supply. This does not come with the machine or power supply and will need to be purchased separately – we have a whole section on our site dedicated to cords here.
Most power supplies and machines connect with an RCA cord, but here at Killer Beauty we have multiple adapter cables available for machines that don't come with an RCA connection.
Some good news is that all Cheyenne machines now come with both a 3.5mm cable and a 6.3mm adapter included, so no additional adapter is required to connect these handpieces to your power supply. For machines such as the Microbeau Bellar and Apollo, we stock the Microbeau Air DC Mini cable in both the straight and 90 degree versions.
Some of our most popular power supplies include the Critical Atom X and the Atom X-R, which have unique colour changing voltage indicators and a jump start mode for difficult to power machines. They also have the added benefit of 2 ports for connecting multiple permanent makeup machines at one time.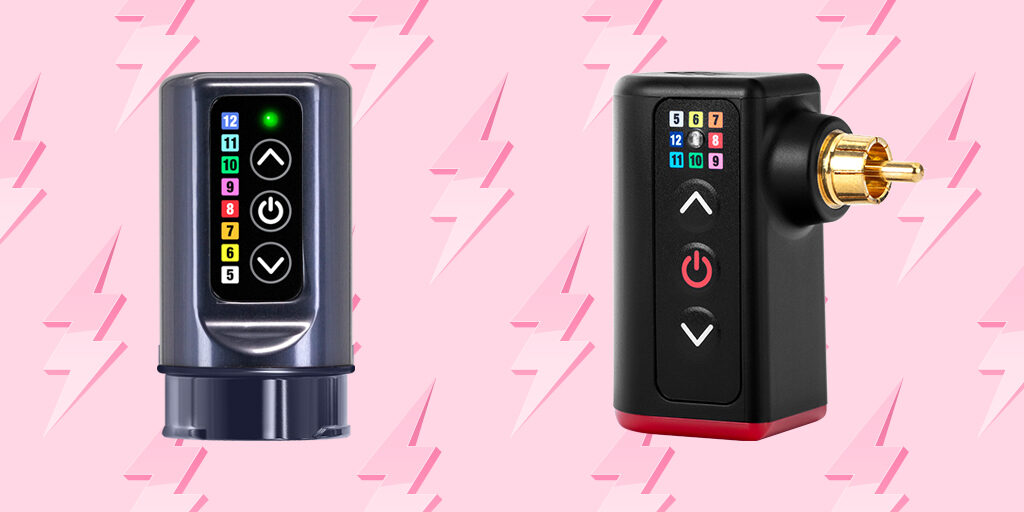 Some artists prefer to use wireless power supplies such as the DarkLab Lightning Bolt or the Critical Universal Battery for easy manoeuvrability, with no wires to restrict them during a treatment. These battery packs can be charged via a charging dock or USB port and then connected to your PMU machine to run.
With a wireless battery, always check if the design is compatible with your machine – the original Lightning Bolt has been designed to securely fit the Xion S machine, while their new Universal Lightning Bolt has been designed to fit any shape micropigmentation machine.
The Critical Universal Battery is also available in an RCA version and a 3.5mm connection, meaning it is compatible with almost any rotary PMU machine.
Although they offer more freedom, wireless battery packs can take some getting used to if you are switching from cords to wireless as it will feel different to what you are used to! However, the battery packs we offer are super-lightweight (less than 60g) with ergonomic, balanced designs so as to minimise any 'top heavy' feeling.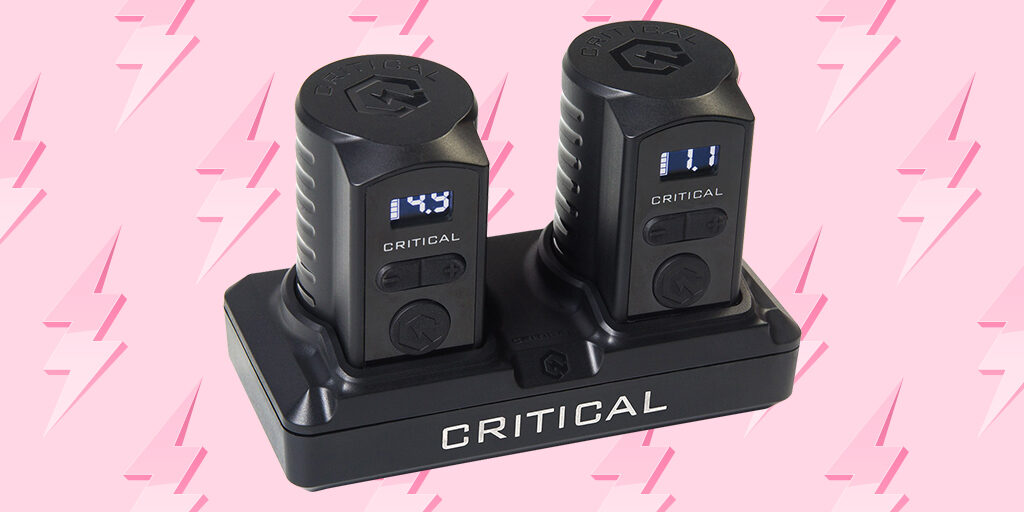 At Killer Beauty, we provide the option to purchase wireless batteries in double packs, so they can be interchanged if power runs out during a treatment. This means that your procedure won't be interrupted or stopped by a low battery - just make sure you always have a second, fully charged battery ready to go!
Some of the newest releases in the industry include wireless PMU machines that come with a detachable battery pack specially designed for that machine– such as the Microbeau Flux S or the Stigma Force® Wireless PMU Machine. These machines also have multiple innovative features alongside their wireless battery packs!
When choosing between traditional power supplies and wireless options, it is important to do your research. Some artists prefer to start out with a power supply and cord before moving on to a wireless option once they are more comfortable and confident using a PMU machine.
As always, if you're ever unsure of compatibility between power units and machines or what cord you need – simply drop us a message on social media or give our customer services team a call! We are always more than happy to answer your questions.